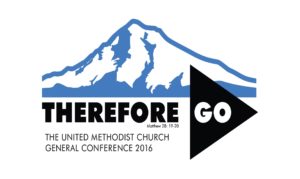 The United Methodist Church's top legislative body will meet at the Oregon Convention Center, the largest convention center in the Pacific Northwest, on May 10-20, 2016. Pastor Dan will attend a few days of the conference as part of his on-going continuing education. Here are some pertinent facts:
General Conference is the top policy-making body of The United Methodist Church which meets once every four years. The conference can revise church law, as well as adopt resolutions on current moral, social, public policy and economic issues. It also approves plans and budgets for church-wide programs.
Delegates for General Conference come from the USA, Europe, Africa and the Philippines. General Conference is the only body that sets official policy and speaks for the denomination. The number of delegates must be no fewer than 600 and no more than 1000. Delegates are elected at annual conference meetings. Individuals, agencies, annual conferences and other groups can propose petitions and resolutions. Bishops cannot vote at General Conference.
Voting at General Conference can revise the Book of Discipline or the Book of Resolutions, set the church budget and mission direction.
Once the conference is underway, follow the events at pnwumc.org.